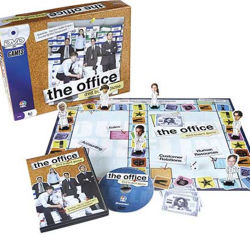 "The Office" returns in its fifth season Thursday, September 25th at 9pm on NBC.
To celebrate Dunder Mifflin's continued success NBC has sent over a very awesome board game for me to give away. I've also got a stack of very cool Heroes stuff including "9th Wonders" comic books and trading cards that I'll giveaway for runner-up prizes. Lots of cool NBC show prizes to win.
NBC "The Office" DVD Board Game – Giveaway Details
1. Subscribe to Snark Food's daily email newsletter. Click here to subscribe. (note: you will be required to activate the email subscription) If you're already subscribed you just have to send in the email to enter.
2. Send me an e-mail at contests@snarkfood.com with your name and mailing address. Please include "The Office" in the subject of your email.
I'll draw winners for the game on Saturday, September 13, 2008 and if selected you'll be notified by email. I will check the winner's email address against the newsletter subscriptions, and those who don't have an active subscription will be disqualified. You are not obligated to remain a subscriber and can unsubscribe after the contest is over. Enter now!
Restrictions: Must be a U.S. resident and 18 years or older. One entry per person & per email address (one person can't enter through multiple email addresses, nor can multiple people enter through one email address).
Visit the NBC Store for more details the game itself.