In the category of hilarious but weird news, infamous comedy video website Funny or Die has released a Donald Trump parody biopic starring Johnny Depp. We couldn't be more delighted. Who could be a more awesome choice to stick it to the celebrity presidential candidate than the man we can't help but think of in our heads forever as Captain Jack Sparrow? After all, who better to play a pirate of industry only worried about protecting his own booty, right?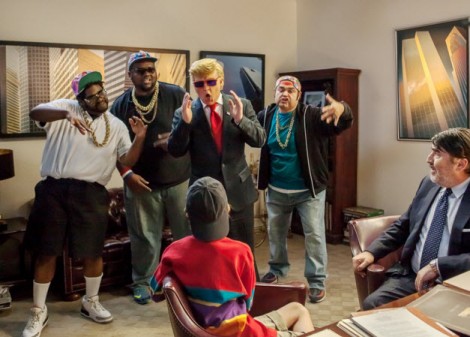 The Donald Trump Funny or Die parody film is titled The Art of the Deal: The Movie in a spoof off the business mogul's 1987 book. Johnny Depp is not the only big name attached to the short film. The epically amusing video is narrated by Academy-Award winning director Ron Howard, and stars other well-known Hollywood names as Henry Winkler, Jack McBrayer, Patton Oswalt, Andy Richter, and Saturday Night Live's Michaela Watkins as Ivanka Trump.
Watch the entire Donald Trump Funny or Die video starring Johnny Depp below! Wait until you see the star's amazing transformation into the former Celebrity Apprentice star and wacky presidential candidate. It's crazy!
If you are a fan of Drunk History, you may recognize the name of Jeremy Konner, who created the series, and serves as director on The Art of the Deal: The Movie. The script for the short film, according to the New York Times, was penned by former The Onion editor Joe Randazzo. In keeping with the idea of the movie having been filmed in the 1980's and only recently uncovered, the theme song for the Funny or Die parody was written by Kenny Logins.