Academy-award winning actress Helen Mirren has lent her face and gorgeous voice to an amusing-but-serious new Budweiser Superbowl commercial. The ad, which will run during Superbowl 50 on February 7, features Dame Mirren absolutely skewering any idiot who is stupid enough to drive drunk.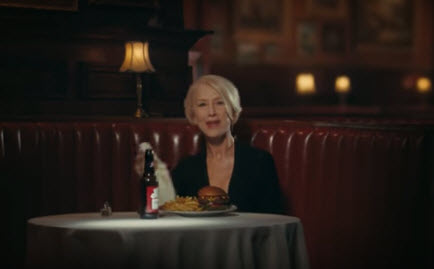 Budweiser has two Superbowl 50 commercials for 2016, including one featuring the brand's iconic clydesdale horses. That ad won't be released prior to the game. Budweiser did decide to give us a sneak peek at their other Superbowl 2016 commercial, headlined by Dame Helen Mirren. In the ad, the always classy actress delivers a scathing, but very elegant, list of insults geared toward anyone dumb enough to imbibe and drive.

https://youtu.be/Rb2VXVmUga4
We particularly love the bit about being a "Darwin award-deserving, selfish coward" if you are one of those morons who consumes alcohol and gets behind the wheel. We agree with Budweiser and Dame Mirren that anyone that stupid truly is a serious pillock.